The Pizza Project Bar
Will you stop by our Neapolitan pizza bar? The perfect place to enjoy pizza, experience a delicious aperitivo or just for a drink. We've got plenty of small snacks and on weekends we even roll out some incredible Italian sandwiches. You can also grab your pizza and head to the nearby Vondelpark.
Opening times kitchen
Monday – Tuesday: 17:00 – 21:00
Wednesday – Thursday: 17:00 – 21:30
Friday: 17:00 – 22:00
Saturday: 13:00 – 22:00
Sunday: 13:00 – 21:00
Pizza Project
We began our own pizza project in 2018, making pizza in our back yard. Our goal? To perfect the art of Neapolitan pizza. Turns out, you make friends pretty easily when you're churning out pizza! Before we realized it, we had neighbors queuing up to get a slice or two. They had followed the smells of fresh pizza and they became our tasting committee. Now, we always thought our pizzas were good but to hear strangers giving us such amazing feedback is really what encouraged us to take the next step.
That next step came in the form of a food truck, which we took on the road for festivals and events. Luckily, the fans came with us and new ones arrived. The story of Neapolitan pizza was now being told to a whole lot more people. What followed was our very own Neapolian Pizza Bar, where we were able to take the quality up even more. Sourcing the best ingredients, proving our dough for 48 hours and a piping-hot, wood-burning oven that cranks up to 500 Degrees. All of these make up part of the Pizza Project philosophy, along with our commitment to sustainability and making use of local farmers, and their fantastic produce. All of this results in a unique, fluffy base, that manages to be chewy without being stodgy. Texturally, this is what takes a Neapolitan pizza so different from the average pizza. To be able to welcome people into our own restaurant is a dream come true for us. We take great pride in what we do and we enjoy doing it. For us, pizza is an art. A celebration of culture and tradition. We are always learning. And we love it.
Join Pizza Project
Are you looking for a great (side) job in the service industry, or do you maybe fancy yourself tossing and shaping pizza dough? Cool. We're always looking for enthusiastic pizza lovers – people who believe in our project and who want to make it bigger, together. Passion is worth more than experience so don't be shy. We're more than happy to train you. Reach out and drop us a mail at info@pizzaproject.nl. Let's grab a coffee!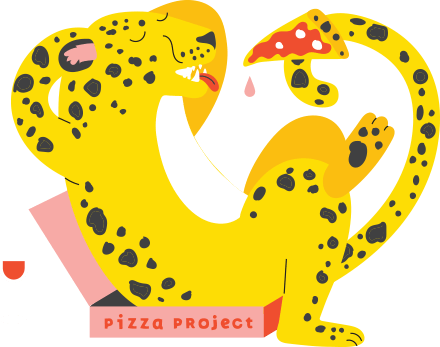 Impression
Best first impression is always to stop by! But want to get a feeling of our place? Check below or our Instagram. A Happy Memory Starts With A Pizza Project.